Easy to use, full featured bulletin board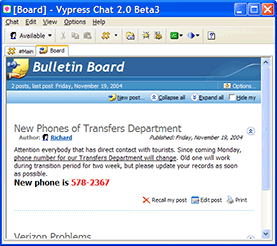 Vypress Chat includes powerful, fully packed but easy to use bulletin board. It allows every user to post important news, pictures and drawings and other durable information that will be immediately available to all other Chat users on your network. Now you may save money and desktop space from traditional yellow stickers and centralize all workflow news in one handy place.
Bulletins may include rich text formatting (font faces, color, size, bold, underline, etc.), images, hyperlinks and expiration time. All these backed with magic smart, bandwidth-friendly background replication and RSA-based secure digital signature!